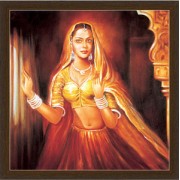 Rajasthani Painting
Rajasthani Painting is a special style of Indian painting, evolved and flourished during the 18th century in the royal courts of Rajputana. Each Rajput kingdom evolved a distinct style, but with certain common features.

Rajasthan, The Land of desert and Kings have very rich heritage. It has unique style and colors that appeals artist over the world to fill the canvas with colors. Rajasthani Ornaments and Dressing Creates Eye-Catching Images.

Our Rajasthani paintings are best for home and office wall decoration. Here are some gorgeous masterpieces.