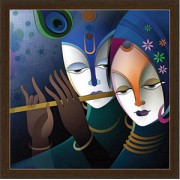 Radha Krishna Painting
Lord Krishna & Radha are the most loved couple in Hinduism. Besides of Hindu followers they also appeal to followers of any religion. Radha's unflinching love for Krishna and their relationship are often interpreted as the human quest for union with the divine.

Lord Krishna is considered as an instigator of all form of knowledge and born to establish the religion of love. The Lord is usually remembered and worshiped as Radha-Krishna. The Pair symbolizes the eternal love between people and god.
Our Radha Krishna paintings show a love legend of all times. Our Radha Krishna Paintings are aesthetically designed. Each and every detail is aid attention while painting these masterpieces.